Friday, December 16, 2022
---
Dispersal Forecast Discussion
Dispersal conditions will be briefly fair to mostly poor as an inversion holds throughout the day with mixing heights topping out at 2,300ft AGL from 1-2pm. Transport winds will be from the NW>W between 20-30mph. Dispersal conditions will become poor this afternoon after 2pm and for the overnight period through tomorrow morning. Similar mixing heights to 1,900ft AGL briefly Saturday as transport winds turn from the SW around 20mph resulting in poor dispersal conditions as the inversion holds for most of the day, with very poor dispersal conditions in the evening.
Dispersal Specifics
Mixing Height:
Topping out 2,300 ft AGL
Transport Winds:
NW>W @ 20-30mph
Inversion Height:
2,200 ft AGL or Less
Smoke Dispersal:
Brief Fair 1-2pm
Today's Surface Level Discussion
NWS Winter Weather Advisory in effect from NOW until 11am today. Current temperature in Gillette is 16°F and will only increase a few degrees into the low to mid 20's this afternoon. Strong NW winds continue through the morning with gusts up to 50mph. Winds will decrease into the afternoon with gusts up to 35mph from the NW>W before winds taper off through the overnight. Strong winds this morning will lead to areas of blowing snow, no additional accumulating snow expected this morning, however, blowing snow could reaccumulate in isolated areas. Another cold front moves through late this evening bringing a slight chance for additional snow showers with a TR-0.5" of accumulation possible at this time. High temperatures remain in the mid to upper 20's Saturday as winds shift from the W>SW with gust up to 20mph. Dry conditions are expected Saturday and into Sunday. Overnight into Sunday, much cooler air starts to move into the region bring overnight lows to around 0°F. Cold Sunday with highs only reaching the mid-teens. Brutal cold arrives overnight as lows drop into the -10°F to -5°F range into Monday with Monday's high temperatures effectively only reaching the single digits.
3 Day Forecast
Day
High
Low
Probability
Amount
Surface Winds (mph)
Today
21-25
–
AM Blowing Snow PM DRY
–
AM: NW 25-35 G50 PM: NW>W 10-20 G35
Tonight
–
10-14
20% Eve/Onite Snow
TR-0.5″
O-night: W 5-15 G20
Saturday
25-29
0-4
DRY
–
AM: W>SW 5-15 G20 PM: SW 5-10
Sunday
13-17
-10 to -5
DRY
–
AM: N 5-15 PM: N 5-10
Meteorologist: Justin Brooks | Office: 303-688-9175 | E-Mail: Forecast@SkyviewWeather.us
Copyright 2022 Skyview Weather®
Today's Weather Story (from the NWS)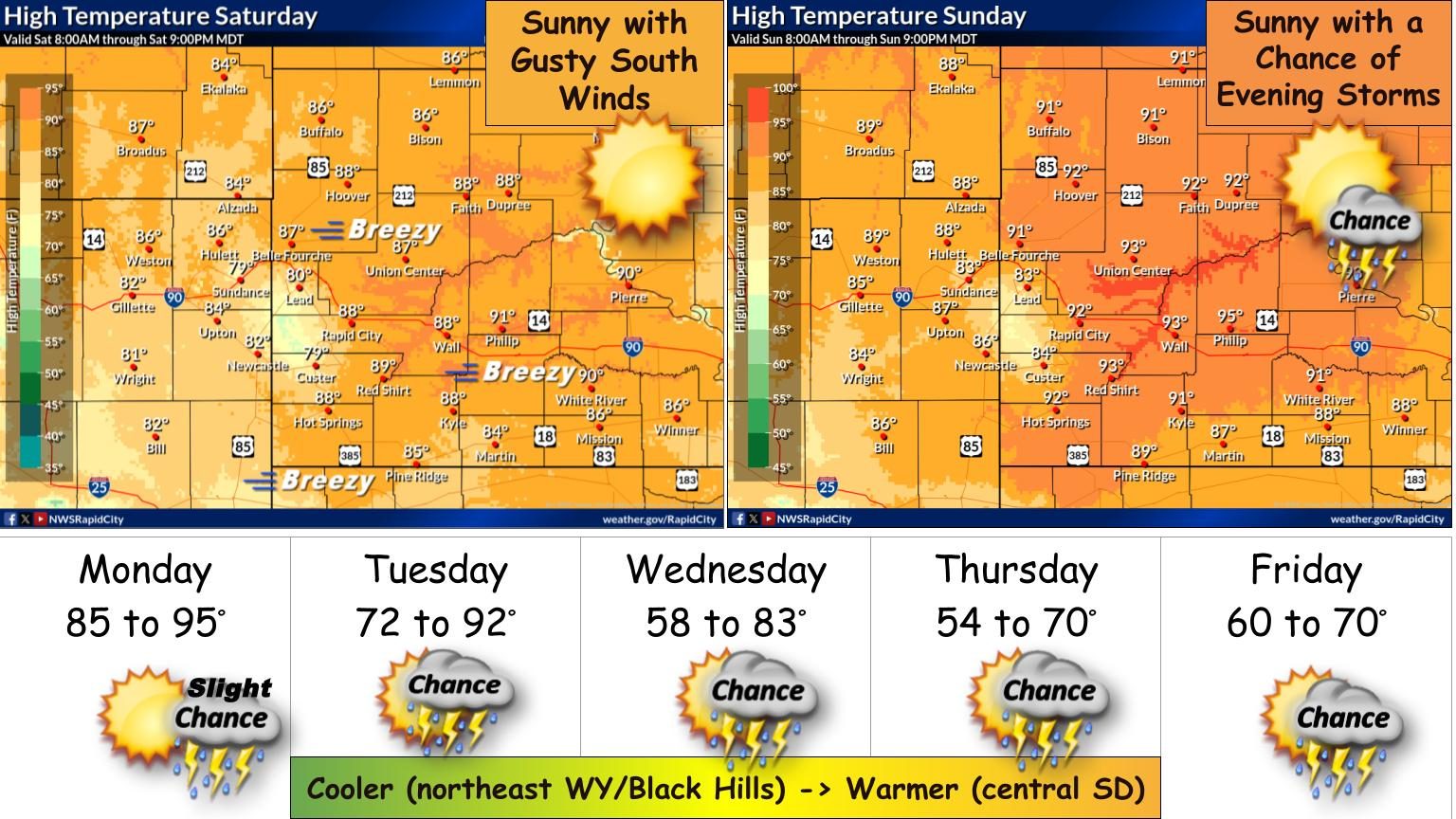 Regional Conditions
Satellite – Northern Rockies
I-90 MM 128.1 Facing East – Gillette, W
I-90 MM 128.1 Facing West – Gillette, WY